Marco Ferrarese has written more than 100 articles on Malaysia, Southeast Asia, India and overlanding from Asia to Europe for a variety of international media. Based in Penang for almost a decade, he knows it inside out – as this CNN Travel article demonstrates – and blogs about it on the Penang Insider. In the fall of 2016, he joined British travel guide publisher Rough Guides. He updated the Malaysian and Brunei chapters of their Southeast Asia on a Budget, co-authored the 2018 edition of Malaysia, Singapore & Brunei, and is working on the new editions of The Rough Guide to Thailand and The Rough Guide to Thailand's Beaches & Islands.
Ferrarese has travelled extensively and lived in Italy, the United States, China, Australia and Malaysia. He started vagabonding as a punk rock guitarist with the metal punk band The Nerds in Europe and North America, hitting the most famous and infamous stages across the two continents. Since 2009, he's been based in Southeast Asia as a writer, hardcore punk musician, and researcher. He holds a Ph.D. in Anthropology with a specialty on subcultural performance (heavy metal and punk rock music) from Monash University Malaysia.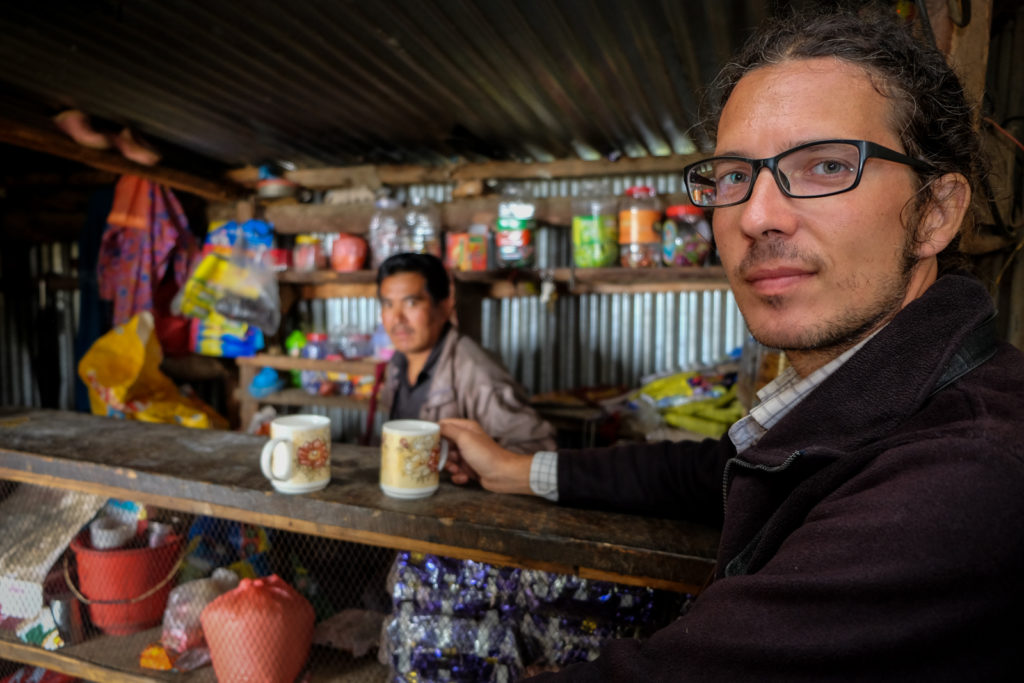 A Wide Range of Publications Under His Belt
Marco's first pulp novel Nazi Goreng, published in 2013 by Monsoon Books, explores the underbelly of Malaysian international drug trade and displaced youth and is a bestseller in Malaysia. Before being banned by Malaysia's Ministry of Home Affairs, the novel was translated into Bahasa Malaysia by DuBook press in 2015.
His second non-fiction book Banana Punk Rawk Trails, published in 2015 by SIRD, documents Marco's forays into the world of Malaysian and Indonesian metal punk and was defined by The Star newspaper as 'highly entertaining, intellectually absorbing, and culturally important'.
His third book, The Travels of Marco Yolo published in 2017 by Gerak Budaya, collects 28 hair-raising trails through the darkest, less-trodden fringes of Asia. Joe Cummings, the author of the first seminal Lonely Planet guide to Thailand, said that "this ragged collection of road tales is well worth your time'.
Ferrarese's short fiction is featured in anthologies KL Noir: No Arrests for the Wicked, Lost in Putrajaya, and PJ Confidential, all published in Kuala Lumpur by FIXI.
Ferrarese has written about travel, culture and extreme music in Asia for a variety of international publications such as Travel + Leisure Southeast Asia, CNN Travel, BBC Travel, The Guardian, National Geographic Traveler (UK), South China Morning Post, Roads and Kingdoms, Southeast Asia Globe, Perceptive Travel, Time Out, Singapore Airline's Silverkris, Bangkok101, Vagabonding, and Penang Monthly.
---
MEDIA INTERVIEWS
The Star2 interview – Jan 2018
Rolf Pott's Travel Writers Series
10 Things about Marco Ferrarese, Novelist/Travel Writer/ Musician – the Malay Mail
Monsoon Book's Author of the Week – Part 1
Monsoon Book's Author of the Week – Part 2
Is the Malaysian Music Scene Stagnant? – Penang Monthly

Short Sharp Interview by Paul D. Brazill
---